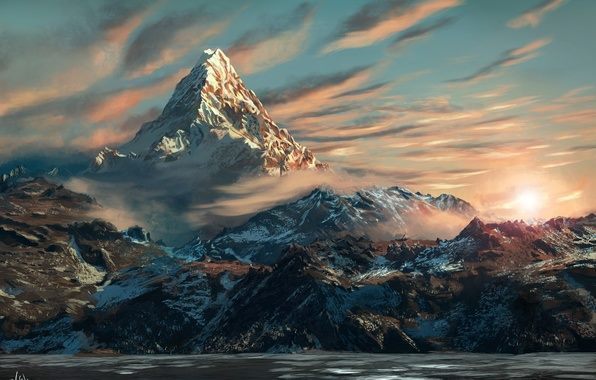 There's a story in the Bible about a guy named Ezra. He's a Jewish captive in the city of Babylon, where for 400 years, Israel suffers the consequences of rejecting God. During that time, God softens the hearts of the foreign kings to begin letting the exiles return. Nehemiah returns to repair the wall, and Ezra is granted leave to start rebuilding the church (aka temple) in Jerusalem - a noble task indeed! To the delight of all, the Babylonian king is not only favourable towards the idea, but offers to finance the entire project - he even throws in some soldiers for protection.
And this is where Ezra talks big: God will protect us, O King. He says that his people basically don't need an army because they have God. Remember, in Palestine of 400BC, there are ruthless enemies everywhere. Considering this, he suddenly realizes it might not have been a bad idea to have a few extra fighting men - but the quandary is that for him to approach the king might reflect that he doesn't trust in God's ability to protect them.
His solution:if I'm going to talk big, I'd better act big. He calls for nationwide prayer and fasting. And here's why: God has set-up His Kingdom to work in such a way that you and I MUST cooperate with him in bringing His Kingdom to fruition in our lives and cities. It's a partnership deal - God will not do our part, and we certainly cannot do His!
Ezra understood this.
There are things in our lives that we know are God's will for us (ie. salvation of loved ones, thriving marriages, renewal of churches, freedom from bondages, etc.). But just because they are His will and promise to us, does not mean we can sit back and wait for things to happen! God never intended us to take a backseat. We shoulder up beside Him and carry the load. Some blessings He has chosen to give us ONLY if His people rise up in the partnership of prayer to ask for them (our part)! And so James 4:2 makes the stunning observation: You do not have because you do not ask!
So, as is our habit, we will be encouraging the House towards a month of Prayer and Fasting, starting on January 6, where we will put before Jesus some big corporate prayer requests, and where you and I will intentionally be putting personal things before Jesus. This month is not the only time of year we pray and fast, but it helps us remember that this is a crucial part of a disciplined life after God. Consider now what you will pray for and how you will pray and see what God will do as we step up to the plate and do our part!